About the Fellowship:
A foundational aspect of Indigo Arts Alliance's mission is to amplify and empower Black and Brown artists who enrich our local community. The goal of the David C. Driskell Fellowship Program is to assist with foundational growth for Black and Brown artists who are seeking development within their artistic career. Created to honor the life and legacy of artist, historian, and Indigo Arts Alliance's Elder Advisor, David C. Driskell, the purpose of this fellowship is to grant time and space to artists of color who need focus in order to have creative production. David C. Driskell was a beacon for Black and Brown artists in his life. With this residency Indigo Arts Alliance helps nurture artists' creative production.
Open to Maine-based and/or Maine rooted communities, this exciting opportunity will enable Black and Brown artists to engage in their practice in ways that they may not otherwise have the space and/or resources to. In addition to having access to a designated 500 sq foot space in Black Seed Studio, selected applicants are awarded a $500 grant. Fellows also receive 1:1 feedback and mentorship by the Indigo Arts Alliance staff and participate in studio visits with a selection of artists, curators, cultural workers, and scholars.
About David C. Driskell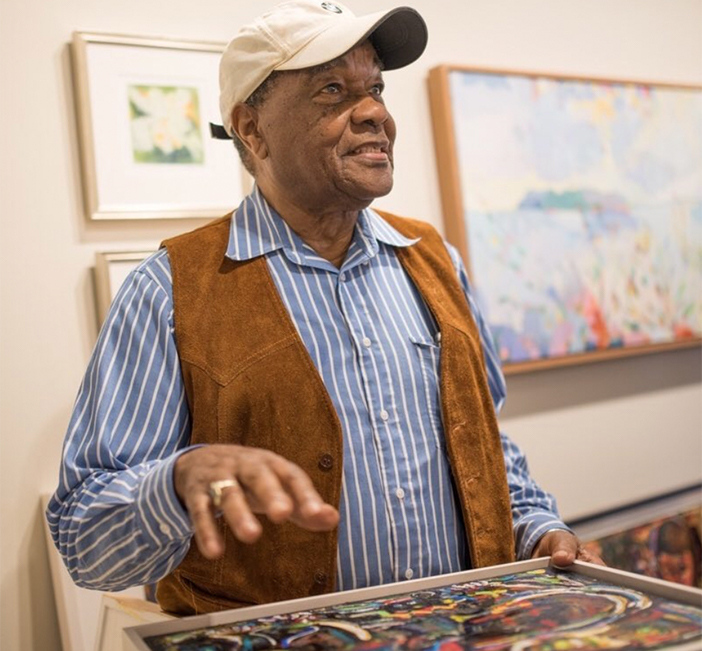 06.07.1931 – 04.01.2020
David C. Driskell served as the Elder Advisor to Indigo Arts Alliance. His mentorship, advice and support helped to affirm and inform our unique model. David generously shared his wealth of knowledge and experience in ways that have been instrumental in helping to sow the seeds for the future growth of the organization. David C. Driskell revolutionized the field of African American art through his scholarship, innovation and humanity.
A giant in the art world, he played a critical role in bringing awareness to the art of African American artists at a time when these artists were overlooked. His work made it clear that African American art is essential to the American art canon.
Selected Fellows Receive:
Rent free studio space for up to three months.
$500 (unrestricted): Fellowship funding may be used to enhance any aspect of the artist's life, such as overhead costs, the purchase of materials, and other living expenses. Awards are subject to state and federal income tax guidelines.
Support from Indigo Arts Alliance staff and menu of community resources and services.
Black Seed Studio Visits: The Indigo Arts Alliance staff coordinates studio visits with Visiting Artists, curators, scholars and arts professionals. These visits can be virtual or in-person depending on the artists comfort level.
Eligibilty:
Artists must be a descendent from any of the African nations, African-American, Afro-Latin, Caribbean, i.e., the communities inhabiting the geographic breadth of all the places where Africans were displaced as a result of the transatlantic slave trade, Native Americans, indigenous peoples, Latinx, South Asian and Southeast Asian, the Middle East, and the Pacific Rim.
Artists must be Maine based (e.i living/working full or part time in Maine) or Maine Rooted (e.i strong ties to Maine, and maintaining strong community networks to the state)
Residents should have 2+ years of exhibition and studio experience.
Applicants must be 21+ at the time of the proposed residency.
Artists of all disciplines are encouraged to apply (Painting, sculpture, illustration, writing, dance, music, theater/performance, photography, fiber/textiles, etc).
Applicants cannot be enrolled and attending a full-time academic program at the time of the residency.
If artists maintain a full time job, they must plan their work schedules to accommodate a minimum of 75% time in the studio during residency.
Applicants must have the most up to date COVID-19 vaccination at least 3 months prior to the start of their proposed residency. You may learn more about our COVID-19 policy here.
Jury Criteria:
Selection for use of Black Seed Studio will be based on artistic skill and commitment to your practice. Artists working at every level, emerging through established, are equitably welcomed and reviewed.
Artistic Merit: The artist presents a sustained commitment to their practice, risk-taking, and clear concepts and creative methodologies that advance artistic expression. This includes traditional studio practices, music/sound, creative writing to new forms that explore digital art mediums.
Creative Integrity: The artist's work demonstrates integrity and ethical use of material demonstrates responsible social and/or environmental practice, models new forms of creative action.
Engagement with defined communities: There is a clear articulation of the role and relationship of the artist with the communities in which they are engaged. The artist engages in equitable creative practice which seeks to build social/structural/systemic equity.
Applications Open at 12:00 am EST on January 1, 2024.
For any questions regarding applications please visit our FAQ page.  For more information or questions, please contact ashley@indigoartsalliance.me.